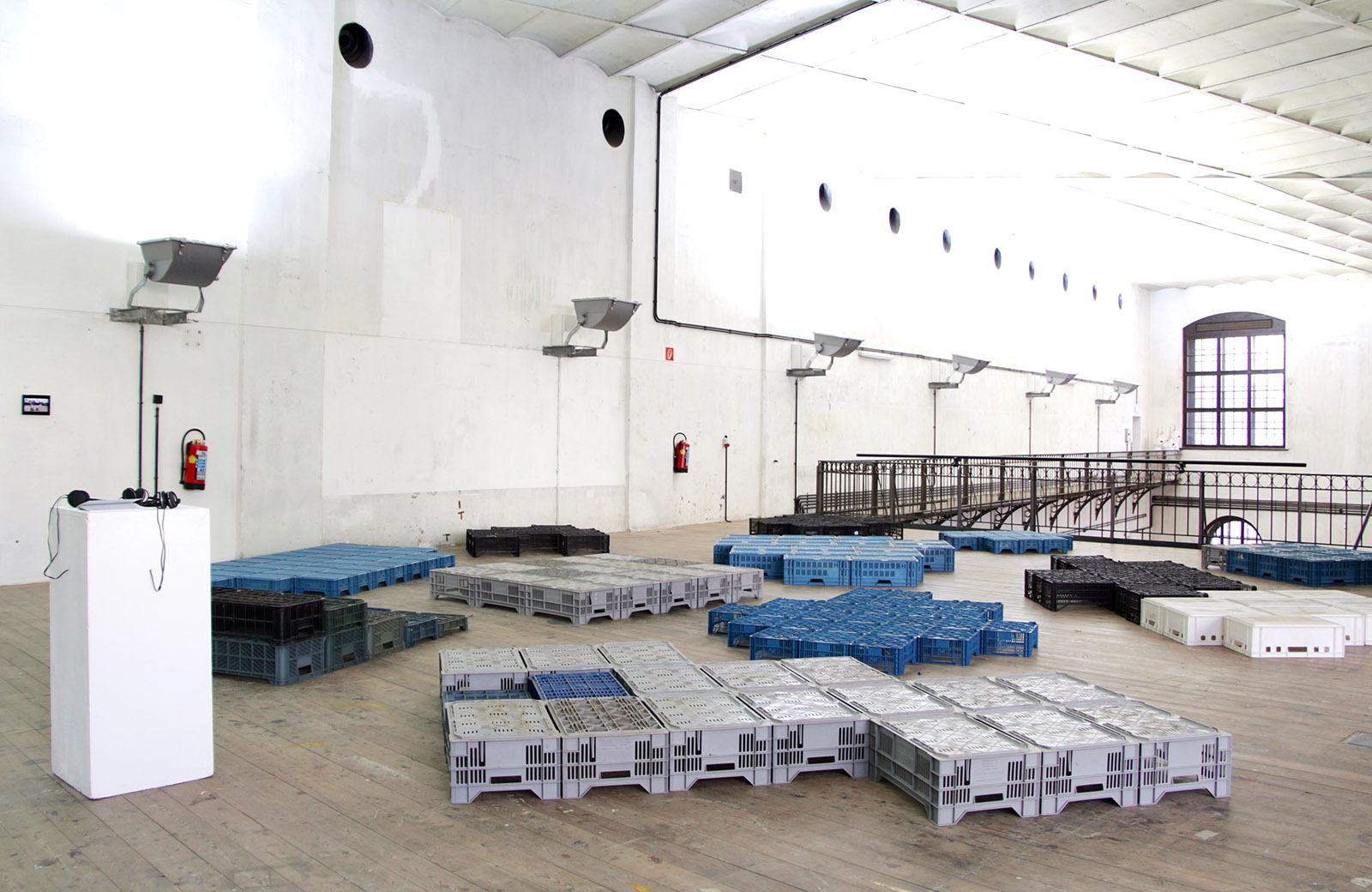 Variable stage: 276 euro standard container
Video: 47'03" Full HD 9.7" tablet, loop
Text: 12'03" audio track on headphones, loop
Degree Show, Semperdepot, Academy of Fine Arts, Vienna, 2016


Excess Goods – you should be working
is a collaged reflexion on contemporary, artistic working processes in four scenes.

We are working – at least we´re occupied. Invisible processes are done without knowing exactly where they lead us to; if there are interested parties, recipients or if there is any pay for it – while at the same time rent for storage is continuously increasing.

Next to the installed stage made out of Euro standard containers (scale 1:1 accessible for the spectators), a video of a durational performance is being played in a loop: four scenes showing how to use the containers, each time creating a new room constellation. The performer is busy with carrying them from one side to the other, to the image border, to set and reset them, to build up walls, this and that, ongoing movements. The sound of the moved containers in the video lays on the installed containers in the exhibition space. The containers are all empty.

Text examples of the four scenes are playing simultanuously on headphones in a loop; dealing with the precarious working conditions, faced by young artists, alternately in form of monologue, possible directional advices and reporting facts .

Those text and scenic examples have the same titles and refer to each other:

1. See

2. Who is still playing tetris today

3. Heap around empty midle

4. Interface

There are no artefacts produced; no completed scenic course of action, no done piece. Nothing staged – in favor of opening up possibilities of (dramatical) usage. Postindustrial, informational and therefore fluid and ungraspable work –process as human capital– are fragmentarily exhibited in form of separated elements of a production; text, stage and the performance in moving image.

Endless working mechanisms, that could resemble a play, building blocks, Meditative processes. Apps or a Landscape. Occupation instead of earning money – the stage is a stage of it´s own conditions.